SATURDAY, OCTOBER 5, 2019 – HOOD COLLEGE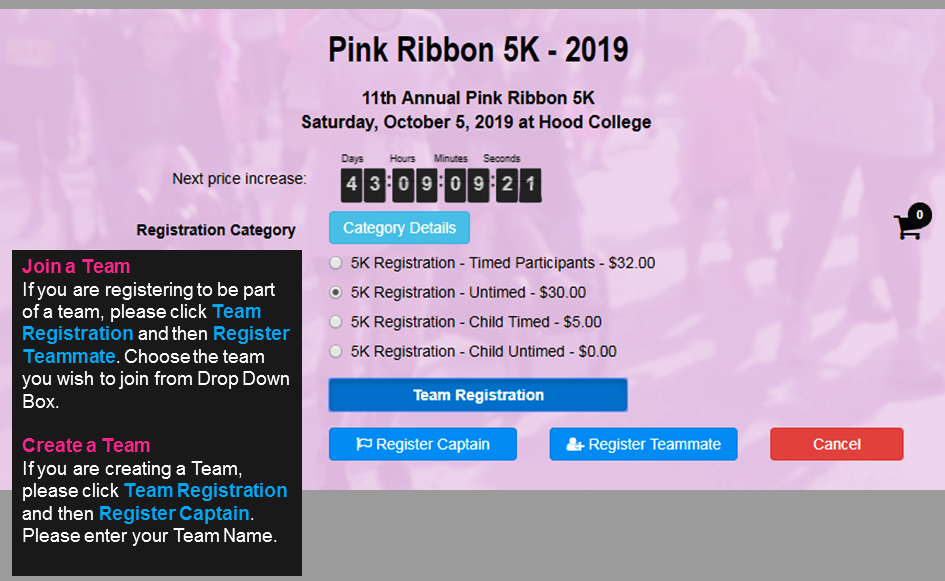 Join us for the 11th Annual Pink Ribbon 5K at Hood College  
Saturday, October 5, 2019
8:00 AM Registration 
8:40 AM Survivor Ceremony
9:00 AM Official Race Begins
Packet Pick Up Thursday, October 3, 2019
Hood College Athletic Building – 2nd Floor
10:00 A.M. – 6:00 P.M.  
Save time on Saturday! Check – In and Pick Up Your T-Shirt and Race Map for
Yourself and your Teammates on Thursday! Can't make it on Thursday?
You can still pick up your packets and check in on Saturday starting at 8:00 am!

The Hurwitz Breast Cancer Fund at Frederick Memorial Hospital was established to provide the most innovative options in early detection and treatment of breast cancer for our community. Proceeds from events like the Pink Ribbon 5K are helping save lives here in Frederick County, Maryland. Every dollar donated is used for direct patient benefit – there are no administrative costs. Learn more…
Race Results
Thanks to Racine Multisports for providing shoe tag timing for our TIMED participants and for the course layout!

2019 Official Timed Race Results
Event Photos
See Photo Galleries
Donations & Team Fundraising
We've made it easier for you to start your own fundraising team and accept donations from your friends and family. When you sign up to walk/run in the 5K be sure to register a "Fundraising Team" and share the link on social media! Every dollar counts!
Thank you again to our generous community, the 5K raised over $100,000 for the Hurwitz Breast Cancer Fund in 2019!
Donate to a fundraising team or indiviudal. 
Contact Us – Please contact the Pink Ribbon Committee with any questions or concerns. Thanks!