Dink for Pink Registration
The Dink for Pink Pickleball Social supports the Hurwitz Breast Cancer Fund. Hosted by Tuscarora Tennis ClubSaturday, May 6, 2023 from 5-9pm. Since 1999, the Hurwitz Breast Cancer Fund has been raising funds to provide the most innovative and state of the art equipment and services for the early detection of breast cancer. 100% of all donations goes to direct patient care in the Frederick Community.
The Hurwitz Breast Cancer Fund is a not-for-profit, organization with a 501 (c)(3) tax status. All contributions to the fund are tax-deductible to the fullest extent allowed by law.

---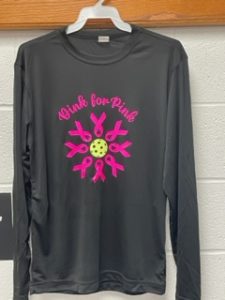 If you'd like to purchase a shirt, please contact Julie Seanez at snavigator63@aol.com